Faster Than Freeman
October 16th, 2019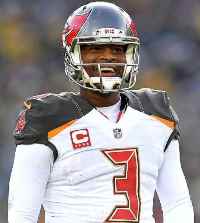 Outside of his magical 2010 Bucs season of 25 touchdowns, six interceptions and 10 wins, Josh Freeman was a turnover machine.
He finished his career with 68 interceptions in 61 starts against 81 touchdowns.
And, following the merciful end of the Josh McCown/Mike Glennon era, the Bucs found another epic turnover machine in Jameis Winston.
On Sunday, America's Quarterback managed to notch his 68th interception in his 60th start, one game faster than Freeman. Jameis has 0.3 more touchdowns per start than Freeman, for a total of 100 in his career.
No, Joe won't sadden Bucs fans with fumble stats this morning.
There are many parallels between Jameis and Freeman. Each showed growth in his second season, and each had two Bucs offensive coordinators (Joe's not counting Jeff Jagodzinski) and a couple of quarterbacks coaches.
Freeman, too, had Byron Leftwich around to tutor him. And like Jameis, Freeman had excellent receiver and tight end play in some years. Freeman got two years of a great running game. Jameis has had just one. Like Jameis, Freeman also dealt with a Bucs secondary that was one of the very worst on the planet in 2011 and 2012.
In his final Bucs season, Freeman had to deal with a horrid play that had nothing to do with him, the Lavonte David personal foul against the Jets, who won the game on the next snap. This season, a brutal Matt Gay miss against the Giants is casting a horrible shadow on the starting quarterback even though he put the team in position for an easy win.
Regardless, viable Jameis-Freeman comparisons in mid-October of 2019 are not what Bucs fans fantasized about in the spring of 2015.