Linebackers Challenge For Jameis
October 24th, 2019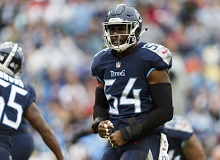 Astute NFL followers know the Bucs are about to butt heads with a truly stingy defense that is allowing just 16 points per game, and it was a top-10 defense last season.
The Titans haven't allowed more than 20 points in a game through their 3-4 record this season.
Logan Ryan and Malcom Butler are a top-tier cornerbacks duo, so good that 2017 first-round pick cornerback Adoreé Jackson plays nickel corner.
But if ask Bruce Arians about the Titans defense, and he'll say he's most impressed by what he sees up front.
"Their front-7 is outstanding," Arians told Buccaneers Radio. "They do a great job. Mike Vrabel's coming from that New England system; they have a great nickel, third-down package. They've got like five or six linebackers in there. So you really have to be on your Ps and Qs on which one's coming and which one's not. And they have a great blitz system. It's going to be really challenging for us. These extra days [of preparation] will really help."
This is a very intriguing matchup for the Bucs, especially coming off a bye week with so much time to focus on Tennessee and this must-win game. This is where Arians and army of coaches should stand out with their experience.
Still, Arians said "you don't change much week to week," when asked about getting ready for the Tennessee defense. He said, sure, you look for matchups to exploit, but overall you "execute what you do" and  "it all starts with the protection."