"A 6-To-8 Win Team, And I'm Stretching On The 8"
October 8th, 2019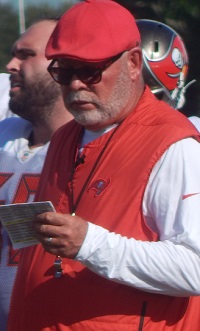 A former Buccaneers star sees a talented Tampa Bay roster missing a critical piece and impressive depth.
And give the guy credit, he said the same thing two weeks ago and was on the money.
Joe's talking about retired receiver and blocking icon Michael Clayton.
Clayton fingered Vernon Hargreaves after Week 3 as being a weak link and a guy who will be "picked on" through the season because he absolutely can't handle the top receivers in the game.
Fast forward to the Week 5 mess against the Saints and Clayton told his WDAE-AM audience in a postgame show that coaches have seen enough.
"Kind of like the final straw for Bruce Arians and Todd Bowles seeing the deficiencies in the secondary," Clayton said, adding that a lockdown cornerback likely is the "the difference between a good [Bucs] team and a great team."
Tampa Bay is "a 6-to-8-win team and I'm stretching on the 8," said Clayton, who claims the Bucs have lots of talent but not enough to win when their best players don't play well.
Sadly, in a passing league, you must defend the pass.