3 Jameis Trips To New Orleans, 3 Unforgettable Games
October 6th, 2019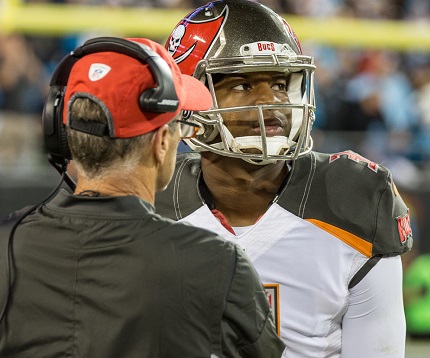 Four years ago, Bucs fans were hysterical with hope and happiness after Jameis Winston' first game in New Orleans.
Nearly all the headlines were owned by former defensive end Jacquies Smith, who had three sacks and a forced fumble of Drew Brees that day in a 26-19 Bucs win, but most Tampa Bay fans walked away from the game thinking, 'Hey, America's Quarterback can play!'
Jameis was coming off the terrible Tennessee Ready game, his rookie debut that saw him complete less than half his passes and throw two interceptions at home. A week later against the Saints, Jameis outplayed Brees and his lone turnover was a fumble. It was huge progress and Jameis made big throws in the game.
In 2016, Jameis went to New Orleans for the biggest game of his career.
The Bucs were 8-6, the Saints were 6-8 with a sad defense, and a win likely would have propelled Tampa Bay into the playoffs. Sadly, Jameis forced a bad interception to a double-covered Russell Shepard in the red zone with eight minutes remaining and the Bucs trailing 31-21. That play was the dagger in the game and what was a furious Bucs comeback after trailing 20-7 in the third quarter.
A year later, Jameis became world famous for his eat a "W" pregame speech in New Orleans before he went out and got off to a slow start and then walked onto the field to poke Saints quarterback Marshon Lattimore in the head, which led to a Mike Evans cheap shot and a suspension after a scuffle broke out, and then Jameis got injured in the game and was done for the day.
Like many Bucs fans do, Joe has each Jameis road game in New Orleans forever burned in his brain. All three were very memorable Bucs games of this decade — two low, one high.
Joe has a feeling today will be another one for the history books.