Where Is Jason Pierre-Paul?
September 18th, 2019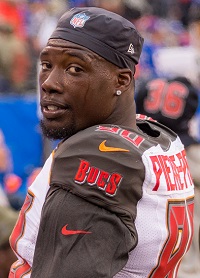 Joe didn't see Jason Pierre-Paul on the Buccaneers sidelines during the must-win game against the Panthers. Joe even had the brilliant JoeBucsFan.com photographer looking for him.
No sign of JPP on opening day, either, not that Joe could tell.
Is JPP a fixture at practice with his teammates now that he's been cleared by medical staff for football-related rehab following his May neck fracture? Joe can't answer that with a "yes."
Has JPP been filling his popular Instagram page with Bucs-related optimism and excitement? Nope.
Bucco Bruce Arians was asked today about the whereabouts of JPP's rehab and said, "It's a little bit of everywhere. A little bit of everywhere. And I kind of like it like that. When it's time, I don't have any worries about him chomping at the bit being ready to go."
Joe hopes JPP is grinding his way back to football readiness, but Joe won't pretend it's a good thing that JPP isn't more visible and involved with his teammates. Are you all-in or not, JPP?