"We Gotta Get It Rollin' Early"
September 6th, 2019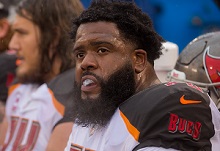 Donovan Smith was talking today and he had a firm message for Buccaneers fans still in shock from the offensive line play seen two weeks ago against the Cleveland Browns.
You ready for this, Bucs fans?
Smith said those 30 minutes of a butt-kicking delivered to America's Quarterback, Jameis Winston, is not something to freak out about.
"It's preseason," Smith said with a smile in his voice on WDAE-AM.
"Preseason, that's what it's for. You know, you try things. You try new things; you see what works, you see what doesn't. Obviously, we got to play better in general."
Yeah, the whole "preseason" line made Joe bristle. Why? Quarterbacks get maimed in preseason. Regardless, Joe's over it. Smith went on to say the Bucs and the O-line are feeling the urgency of opening day. "We gotta get it rollin' early."
Smith also repeated what he's said previously, which is that Bruce Arians is such a straight-shooter it really stands out and nobody is spared. He added that "we feed off the fans" and opening at home is the ideal situation, so he encourages to come loud and proud Sunday at the Den of Depression.
---
YES!!!!! It's game-week on TAMPA TWO! Presented by Caldeco Air Conditioning & Heating, another stellar production from The Identity Tampa Bay and JoeBucsFan.com.
---
Watch every road game at Buffalo Wild Wings with Ira Kaufman and JoeBucsFan.com readers. Great giveaways, too. The preseason opener was a blast.
BE THERE NEXT THURSDAY ON BIG BEND ROAD IN RIVERVIEW!!!! Kickoff at 8:20. The fun kicks off at 7:30 p.m.