TV Map For Bucs-Rams
September 28th, 2019
After the debacle of last week would you be surprised to learn tomorrow's Bucs-Rams game will be shown outside California and Florida?
Well, prepare to be surprised.
Various pockets of the country will have their local FOX affiliate beam in the Bucs-Rams, despite Tampa Bay's nonsense last week. So Bucs fans outside California or Florida, there is a shot you too could be watching the game at home. Everyone else will be heading to the sports bar.
Chris Myers and Daryl "Moose" Johnston, will call the game.
Of course, Joe always recommends local fans take in the Bucs and the full slate of NFL action at Abe's Place in Clearwater. The menu rocks.
As always, the map is courtesy of 506sports.com.
[UPDATE: Repaired the error.]
FOX broadcasts: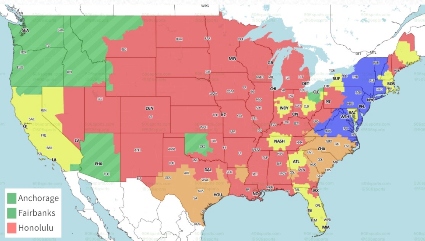 Yellow: Tampa Bay @ Los Angeles.
Red: Kansas City @ Detroit.
Blue: Washington @ NY Giants
Brown: Carolina @ Houston
Green:  Seattle @ Arizona (LATE)