"No Panic On The Sideline; Guys Were Convinced We Were Going To Win The Ballgame"
September 13th, 2019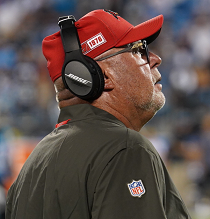 You want culture change; here ya go.
And this includes a hat tap to former Bucs safety Chris Conte.
In 2015, Conte spoke on the Buccaneers Radio Network about how he encountered a losing, here-we-go-again attitude on the Bucs sidelines during games. Conte had recently arrived from the Bears in what was one of the worst free agency classes in Bucs history. A winner in Chicago, the Tampa Bay sideline kind of surprised him.
"There's a lot of doubt on the sideline because, I mean, this team has lost in almost every way possible [in 2014]," Conte said.
"There was a lot of heartbreaking games that they had that they were in. So sometimes there's kind of a sense on the sideline, 'Man, like, can we do this? Are we going to do this?' "But I think everybody really pulled together [Sunday]. 'Like hey, we're not going to let this one slip away.' We're going to come out and we're going to play strong, and we're going to do everything we can to get this win because we have to start learning how to win.
"And I think that's really big for this team, especially on a team that has so many young players. Really to start that tradition of winning, and that feeling of winning, so when we going into a game we're not saying, 'Hey, are we going to win this game?' We're saying, 'Hey, we're winning this game, there's no doubt about it.'"
Conte was pissed at Joe for writing that up, and he let Joe know about it. Joe advised Conte that he said it on the radio for all to hear.
Regardless, Conte was on the money and yes, clubs with loser mentalities think about losing and it infects the team. That mentality has to be eradicated.
Bucco Bruce Arians has been coaching forever and this season he isn't calling plays, so he's got a ton of time to gauge the pulse of the Bucs.
After last night's thrilling, nail-biting win at Carolina, Arians noted in his postgame remarks that the roster has bought in completely and "there's no panic on the sideline; guys were convinced we were going to win the ballgame."
Joe is quite certain that was not one-liner coachspeak. Joe is sure Arians was looking for weakness in the team's mentality on the sidelines — and he didn't find it.
When it comes to wiping out the infectious stench of losing from the Bucs locker room, that's a huge step forward.