Thankful Gay
September 20th, 2019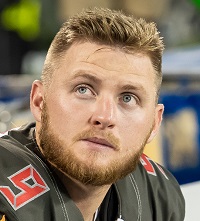 Joe sure hopes by now that rookie kicker Matt Gay has bought Vernon Hargreaves a couple of 7-day cruise tickets or at least leased him a new Ranger at Bill Currie Ford.
Heck, Bruce Arians and Jason Licht also should have been at least that generous with their starting cornerback.
Hargreaves' game-saving tackle last week spared Gay from the horror of being the kicker who missed a 42-yard field goal with two seconds remaining in the third quarter of a three-point loss. Gay also was "that close" from everyone realizing the undrafted rookie kicker wearing Panthers colors was 4-for-4 on field goals, including a 54-yarder.
Hargreaves also made just about everyone forget about Bucco Bruce Arians and Todd Bowles teaming up to call back-to-back defensive timeouts on fourth down, an unthinkable penalty.
And let's get offensive coordinator Byron Leftwich into the thank-you game just a tiny bit. When your offense gives up a safety on second down from your 2 yard line in the fourth quarter, you really called the wrong play at the wrong time.
Joe is so eager to see how Gay bounces back against the Giants on Sunday. He recovered against the Panthers to drill a 32-yard field goal. But there's more redemption needed for the rookie.
The Bucs should move the ball against the Giants, but if Tampa Bay's red zone woes continue, Gay can expect an extremely busy day.