JoeBucsFan.com Predicts A 7-9 Finish
September 2nd, 2019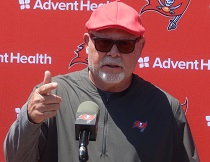 It's the time of year when Joe marches to the keyboard and feels compelled to answer the question constantly lobbed at Joe: "How do you think the Bucs will do this season?"
Since 2013 kicked off, Tampa Bay's record through the halfway mark of each season has been a cumulative 12-36. That covers three head coaches, two general managers and about a dozen smashed remote controls at JoeBucsFan.com world headquarters.
By the numbers it looks like this: 0-8, 1-7, 3-5, 3-5 , 2-6 and 3-5.
Throw in the fact that the Bucs haven't had a winning home record in a season since Jon Gruden was head coach, and that's the definition of a losing culture completely infecting an organization.
For new head coach Bucco Bruce Arians, that's an awful lot of history to overcome in one season with a roster loaded with inexperienced defensive players and an inconsistent starting quarterback learning a new system, along with a brutal early schedule overloaded with road games.
Does Joe think the Bucs will avoid a losing record in the first half of this season?
No.
It sickens Joe to type that, but Joe isn't about to start conning fans with phony rainbows and pewter lollipops.
Yes, Joe thinks the Bucs will improve as the season progresses. Yes, Joe thinks the offense is talented enough to win shootout games. Yes, Joe could see the Bucs winning four out of their last five games and maybe even notching an 8-8 record. But for a pure prediction, Joe sees the Bucs finishing 7-9 this season.
Joe studies the Bucs' trenches, running backs and secondary and sees depth and talent issues that feel worse than many teams'.  Sadly, Arians and Jason Licht likely need another offseason to fortify the roster — after plucking more weeds from this one.
Arians has said he's not rebuilding, he's reloading. That's a fun sound bite, but Joe is seeing more of a rebuild than a reload.
A lot of fans might look at Arians finishing 7-9 this season as another disgraceful losing campaign. But the reality is that 7-9 would mean the Bucs improved significantly and beat several quality opponents on their tough schedule.
Cleveland won seven games last season and managed to win over the nation with a true-reload type offseason. The Falcons won seven and look completely reloaded, with key players back from injuries and massive offseason investments on their offensive line for a team that scored 26 points a game last season.  A few years ago, the Eagles went 7-9 and won the Super Bowl the following year.
Seven wins doesn't have to be a death sentence. It can be a positive step. And that's what Joe predicts will happen in 2019.
It'll be painful at times, but try to enjoy it.
As always, Joe hopes beyond hope that the Bucs win every darn game. First, Joe is a Bucs fan. Second — and this is for the clueless crowd who thinks Joe somehow financially benefits from the Bucs losing — winning is the ultimate fuel for business on these pages. Nothing energizes fans like Ws.