Report: Torn Ligament & Six Weeks Out For Drew Brees
September 16th, 2019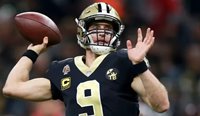 Joe's not one to celebrate a legendary player's injury, but a report just after 11 a.m. from the Associated Press this morning is one that should put every Bucs fan on the edge of his or her seat.
Drew Brees injured his throwing hand early in yesterday's game against the Rams and, per the report, he has elected to have surgery and could miss six games. The Bucs are scheduled to head to New Orleans for a Week 5 clash with the Saints.
No Brees? That's a game-changer on the Bucs schedule.
No Andrew Luck? Cam Newton falling apart and the Bucs getting the Panthers again in Week 6? The Bucs' defense playing well without Devin White?
Joe's starting to think the football gods have elected a new leader.
Yes, Saints backup QB Teddy Bridgewater is not a guy to shrug off. There's a reason the Dolphins didn't sign him after he visited there this offseason. He wasn't special yesterday, but that was a very tough spot to jump into. Regardless, Joe likes the Bucs' path to their Week 7 bye week right now.