Rare Look At A Highly Contested Catch
September 11th, 2019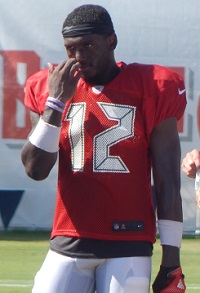 Lost in the sloppy, sloppy Bucs-49ers game on Sunday was a heck of a catch, and a unique camera look provides the average Joes from Clearwater Beach to downtown Lakeland a tremendous look.
Joe's got the video below. It appears at the 2:15 mark of a Mic'd Up feature on Chris Godwin.
Players and coaches talk all the time about contested catches. Well, Richard Sherman covering on Godwin's 10-yard TD grab certainly qualifies as contested. It was a tremendous throw by Jameis Winston, America's Quarterback, and an even better catch.
Joe has watched Godwin work tirelessly at these types of catches. It's what's made him a No. 1-caliber receiver in the NFL.
Below this new video is a shot Joe took at training camp in 2017, after watching Godwin and Todd Monken work on this day after day.