Mike Alstott, Jeff Garcia Join List Of 122 Hall Of Fame Nominees
September 12th, 2019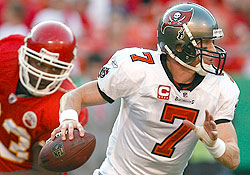 The last Buccaneers quarterback to lead the team to a playoff appearance is among the 122 modern era names for this year's Pro Football Hall of Fame class.
Jeff Garcia, 14-10 as a Bucs starter through the 2007 and 2008 seasons, is joined by Mike Alstott, Ronde Barber, John Lynch, Simeon Rice and Dallas Clark, among other names familiar to Tampa Bay faithful. You can see the whole list by clicking here.
It takes little to be a nominee (you just have to get nominated). What takes a lot is to get the final-15, so you can officially be presented and the panelists can vote.  Barber and Rice have yet to get there despite their excellent credentials.
---
Derrick Brooks Talks Avoiding 0-2, Stopping Christian McCaffrey, Gerald McCoy Reaction & Guidance & More. It's a can't-miss TAMPA TWO looking at the Bucs-Panthers game TONIGHT! Presented by Caldeco Air Conditioning & Heating. A production by The Identity Tampa Bay and JoeBucsFan.com.