Michael Clayton Is High On Bucs Linebackers, Down On Defensive Backs
September 3rd, 2019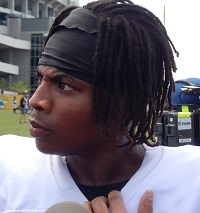 The blocking icon of the Mark Dominik regime, and an NFL superstar during his Buccaneers rookie season with Chucky, knows what he's watching when it comes to the NFL passing game.
Michael Clayton peddles in comments that border on buffoonery at times, but he's also razor sharp more often than he makes you shake your head.
Clayton has been studying the Bucs defense for his role as a local postgame host, and he has determined he's high on the Tampa Bay linebackers and their preseason tackling, energy and commitment.
But Clayton is a bit down the secondary, as it relates to what they can accomplish in 2019. Not ready yet, might be the best phrase to sum up how Clayton assesses them.
"They really didn't stand out to me," Clayton said today of the Buccaneers' secondary on WDAE radio. "To be honest with you, I saw young guys be young guys. I saw them in the vicinity. I saw them make a few plays, but I also saw veteran guys get beat deep. I saw young guys struggle a little bit at times. So, you know, the reality is those guys are going to have more time to develop.

"If we expect the Tampa Bay Buccaneers to have a chance of making the playoffs, our young rookie defensive backs have got to play like veterans and I just don't see that happening quite yet. And it is a team game and we're going to have to bring pressure to see those guys expedite their growth. I think that those guys are highly talented; I don't think that they are where they need to be to call ourselves a playoff team."
Also, Clayton is fired up about defensive coordinator Todd Bowles' desire to blitz, as well as how he showed multiple blitz looks in preseason with more to come. But Clayton is wondering whether the Bucs will find enough pressure overall to be successful.