Glowing Review For Devin White
September 11th, 2019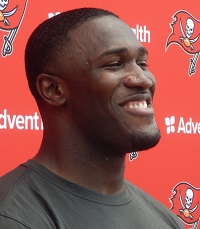 The Bucs defense was good against the 49ers, and rookie savior linebacker Devin White got an even more impressive review.
White played every snap and, per Bruce Arians, he really didn't screw anything up as the quarterback of the defense, the guy relaying the defensive calls and barking adjustments.
Arians was on the Buccaneers Radio Network yesterday and had high marks for the No. 5 overall pick.
"I thought he did extremely well. We were never out of sync," Arians said of White. "We were always in the right calls, right adjustments. He tackled well. Got picked on one play, but that comes with the territory sometimes when you're guarding underneath coverage. I thought overall he had a heck of a solid game."

Yes, Arians said, it's no easy job White has in Todd Bowles' defense.

"We have a lot of defense, a lot of plays, a lot of complicated stuff, so when you're sending all that in motion, jet motion and stuff, to keep your eyes trained to where they're supposed to be and get everybody adjusted, the line sliding which way they're going, he just did a fantastic job, a very smart player."
So there you go. White is getting the job done.
Now it's time to take a step forward and make big plays tonight against the Panthers.