Extra Time Meets Hapless Defense
September 21st, 2019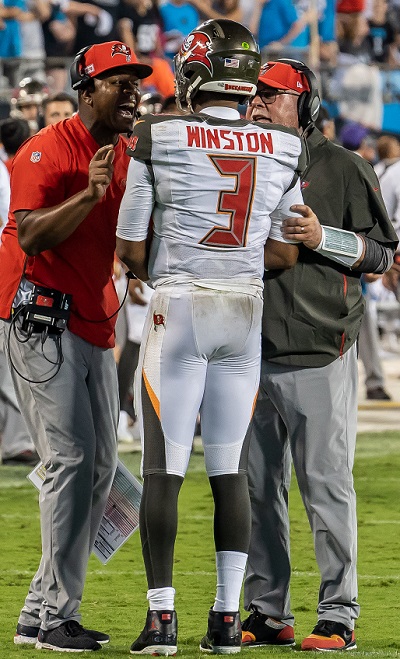 Joe learned a lot about Sunday's Bucs opponent listening to loads of sports radio in New York this week.
And it should have Byron Leftwich and Bruce Arians salivating like Joe in front of a plate of Abe's Place always-fresh deliciousness.
The consensus is that the Giants defense is awful. Dreadful. In fact, Giants head coach Pat Shurmur put up scant resistance when that was directly expressed to him on live radio during his last visit to WFAN-AM host Mike Francesca. A handful of days later, the Giants cancelled Shurmur's weekly appearance on the show.
Through two games, the Giants have allowed opponents to convert 48 percent of their third-down opportunities. They've been carved up through the air and haven't forced a turnover.
Now they travel to Tampa where Leftwich, Arians and their army of offensive minds have had three extra days to prepare to unleash O.J. Howard, Cameron Brate, Chris Godwin and Mike Evans — all healthy — on a defense with many holes and one that likes to blitz often. Yes, the stats gurus will tell you in a hurry that America's Quarterback, Jameis Winston, has been a very good quarterback when he's blitzed.
This morning, Joe watched the recent Giants-Bills game and had a hard time imagining why the Bucs wouldn't be able score 28 points Sunday. Joe doesn't want to hear any excuses; this is a veteran Bucs offense on its home turf.
Like nearly every head coach known to man, Arians likes to say the turnover battle determines the game's outcome. It's certainly not always true, but Joe believes this game absolutely will be one of those games.
Protecting the football and seasoned playcalling should be a combination good enough for the Bucs to emerge 2-1.