CBS Sports: Bucs Get A "D"
September 11th, 2019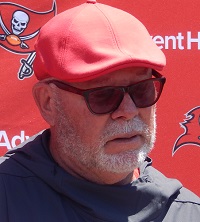 It seems the Bucs are getting pounded on from coast to coast after their lackluster, sloppy game in a loss to the 49ers on Sunday.
And John Breech is no different. He watched NFL Game Pass for each and every game and he came away slapping the Bucs with a "D" grade.
New offense, same results. Buccaneers quarterback Jameis Winston has been an interception throwing machine in his career, and although Bruce Arians thought he could fix that, it looks like the Bucs coach is going to have to go back to the drawing board following Winston's ugly performance against the 49ers. Winston threw three interceptions, including a two pick-sixes that basically ended up being the difference in the game. The second pick-six game with just 2:01 left in the fourth quarter and iced the loss for Tampa
Now Joe understands where some folks say, "Hey it was Week 1." OK, Joe gets it. That's fair. It's been a few weeks since Bucs starters saw playing time on the field in preseason.
This is what spooks Joe about tomorrow's game: If the Bucs were this sloppy — and they were — in their first at-bat of the season, how can we expect the team to improve much in just three days of walk-throughs before they flew to Charlotte earlier today to face the Stinking Panthers tomorrow night?
Usually, you shake the rust off if not with more games, but with practice.