Buccaneers Cove
September 7th, 2019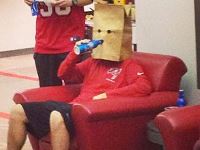 Joe has coined last place in the NFC South as "Buccaneers Cove" because the Bucs have absolutely owned that body of water since 2009.
In the past decade, no team has finished last place in the division more than the Bucs. In fact, the Bucs have been in last place in the NFC South every season but two since Chucky was jettisoned.
That is beyond sad.
And speaking of sad, Cody Benjamin of CBS Sports doesn't see that trend ending. Despite Bucco Bruce Arians on board with an army of assistants, Benjamin believes the waters will remain at low tide and the pirate ship will still be moored in Buccaneers Cove.
Buccaneers finish last in the NFC South again

Jameis Winston will probably be better, Chris Godwin will probably break out, and Bruce Arians' presence should spice things up. But this is the South we're talking about. Where are they finding wins in a division with potentially three serious playoff contenders.
That, folks, is the problem. The damn division is so strong, except for the Bucs, it's hard to find a channel for the Bucs to navigate their way out of Buccaneers Cove.
Just look: The Dixie Chicks took an unexpected nose dive last year and the Stinking Panthers collapsed in the second half of the season, and still the Bucs, with the NFL's most dangerous passing attack, couldn't take advantage.
Sad!