Ira Kaufman's 10 Takeaways From Bucs-Panthers
September 13th, 2019
BY IRA KAUFMAN
JoeBucsFan.com columnist
Presented By
The joint was jumping.
Surrounded by passionate Buc fans at Buffalo Wild Wings in Riverview,
I could sense their concern late in Thursday night's game. Tampa Bay isn't known for making key plays in crunch time, so Buc supporters feared the worst.
Fear struck out.
Jameis Winston directed a long drive that padded the lead to six points and a born-again defense stopped the Panthers in the shadow of the end zone for a stirring road victory against an NFC South rival.
Jubilant Buc fans scarfed up the final few chicken wings and hit the parking lot with a good feeling about their football team. Operating on a short week, the Bucs went a long way in re-connecting with their fan base. And if they beat the Giants at home — which they should — Tampa Bay will head into a challenging two-month gauntlet with confidence.
Gerald McCoy, who wasn't much of a factor against his former teammates, finds himself 0-2 with only six home games remaining. He was shaken, stirred and beaten down by the interior of an offensive line that is suddenly playing physical football.
Here's how the Bucs skipped out of Charlotte with a bounce in their step: And yes, there were plenty of worthy candidates for game balls:
*While the Bucs were boarding their charter flight home, Carolina RT Daryl Williams was still looking for Shaq Barrett. He couldn't handle the former Broncos backup, who is flourishing in an enhanced role.
Barrett made himself small around the edge and came up big with 3 sacks, 3 tackles for loss and 4 QB hits. Huge offseason addition for Tampa Bay.
*Vernon Hargreaves, who had a pick-6 in the opener, turned in his best game as a pro with 12 stops, including the game-saving tackle against Christian McCaffrey. Hargreaves looks like a different player after three years of injuries and ineffectiveness. Pardon my French, but Vive La Difference.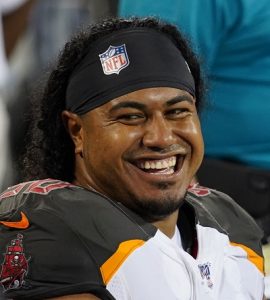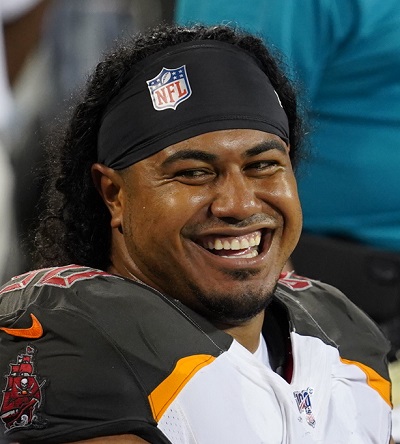 + A healthy Vita Vea is proving to be a major problem for opposing offenses. He's a slab of a man, but this slab can move. His athleticism is now on full display and Vea is emerging as a disruptive force, collapsing the pocket from the inside and helping edge rushers like Barrett hone in on their target.
*Todd Bowles is widely recognized as one of the NFL's brightest defensive minds and now we see why. Returning to his coordinator roots with Bruce Arians, Bowles is dealing out the full monty and the chips are falling Tampa Bay's way. Through two weeks, opponents are converting only 30 percent on third down. And the Bucs just turned in a blanket job on McCaffrey, limiting him to a long gain of only 10 yards on his 18 touches.
*Winston was far more efficient than in the opener, ending a personal 12-game road losing streak. Carolina didn't register a takeaway and Winston finished with a 103.4 passer rating. Most importantly, he helped the Bucs maintain possession for 10:25 in the final quarter. After two weeks, Winston is realizing this defense will keep the Bucs competitive.
"The first game they played well and they practically won the game for us this game," he said. "We just have to do our part to protect the football and give us a chance to win."
*There's a problem with Cam Newton, and it's not going away anytime soon. He doesn't run anymore, even on 4th-and-1, and his passes lack zip. And yes, his body language stinks.
*Luke Kuechly, you are freaking amazing.
*Quite a night for Jason Licht. Hargreaves is single-handedly salvaging the 2016 draft class, Vea is a big-time force and Barrett looks like one of the steals of the NFL offseason.
*Harold Goodwin is earning his pay. Tampa Bay's run-game coordinator/assistant head coach has instilled a toughness Buc fans haven't seen since 2015. Ryan Jensen is mauling people, Ali Marpet has played two strong games and even Alex Cappa looks like he belongs. From under the pile, Peyton Barber says thank you.
*Bruce Arians admittedly didn't have a stellar night on the sidelines, but his biggest contribution came well before kickoff. For three days, he told his players he believed in them.
"He told us to be fearless and let it fly," Winston said when asked about the Arians message.
For one glorious night in Charlotte, Tampa Bay played fast and loose.
These Panthers are now endangered. These Bucs are now emboldened.