"Steady Progress"
September 4th, 2019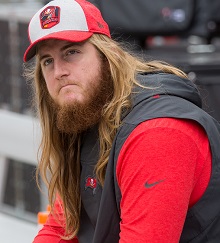 All signs at One Buc Palace say the Buccaneers have found their right guard of the present and the future.
Many fans read those signs, however, and fall into a state of stunned disbelief. But that's not Bruce Arians' problem. He's got his man, Alex Cappa, who Arians says keeps getting better and better and better and better.
"I mean, it's solid. I mean, it's his job," Arians said yesterday of Cappa's job security. "He'd have to lose it, hopefully he doesn't do that. He's made steady progress. Got beat in the Cleveland game a couple of times, but he's made really good progress."
Again, Joe didn't hear anyone crying about Cappa in training camp or through two preseason games. So a complete freakout for a brutal half against the beasts of the Browns' front-4 is a tad overblown. If Cappa is the player the Bucs think he is, he'll learn from that and rise to the challenge. If he's just a weaksauce guard, well, then NFL defensive coordinators are going to come after him in a hurry he'll be exposed accordingly.
One thing Joe is certain of, if Cappa plays like Caleb Benenoch did last season, unlike Benenoch, he'll be benched by midseason.