Brady Quinn Annoyed By "Garbage" From "Writers" And Fans Criticizing Bruce Arians
September 25th, 2019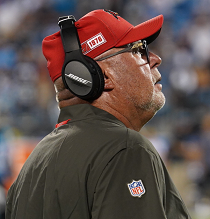 Bucco Bruce Arians has a loud defender.
The head coach's decision to take a delay of game penalty intentionally with 13 seconds left on the 9 yard line before having Jameis Winston take a two-yard loss and a knee to set up a timeout before a game-winning-field-goal try against the Giants has drawn the disbelief of many fans and media types.
Did the Bucs really draft a kicker who's uncomfortable with a 27 yard field goal attempt? That distance should be nailed 95 percent of the time. Many kickers also will tell you closer means less room for error.
However, former NFL QB Brady Quinn, who is now a daily host on SiriusXM NFL Radio (and a darn good analyst) was rather adamant this week saying any criticism of Arians for intentionally losing seven yards to relocate the football is way out of line.
Quinn literally said "writers" and "fans" have been spewing "garbage" about Arians' decision and they're misguided.
Quinn said there's no question that Arians only backed up the kick for Matt Gay– and moved it from the right hash toward the left — because that's what his kicker requested. That's obviously his kicker's comfort zone so you have to go with it, Quinn said.
Joe might agree with Quinn, except Arians turned a chip-shot field goal into what effectively was an extra point after Gay already missed two extra points. That can't be wise. Can it be?
What a frustrating loss it was.
On Sunday, if the Bucs have, say, 4th-and-5 on the 10 yard line and bring out the field goal unit, it will be quite a freakin' head-scratcher if Arians kicks that ball without taking a delay of game penalty.