Barber Gets The Ring; Who's Next?
September 19th, 2019
BY IRA KAUFMAN
JoeBucsFan.com columnist
Presented By
Who's got next?
Ronde Barber will be saluted as the 13th member of the Bucs Ring of Honor Sunday during a halftime ceremony that is sure to turn out an array of Tampa Bay icons.
And while Barber justifiably has his eye on an eventual gold jacket in Canton, the next name to adorn the façade at Raymond James Stadium is wide open.
There's only one more player off that championship 2002 defense who figures to join Barber, John Lynch, Derrick Brooks and Warren Sapp as a franchise keeper, but Simeon Rice may have to wait awhile.
The Glazers make the call and they think long and hard about who receives this ultimate team honor. They've run out of worthy head coaches and it's highly doubtful Hugh Culverhouse's family will ever see his name up in lights next to the late Malcolm Glazer.
So who's next?
Here are five names to consider from a franchise that began play in 1976, when "Shake Your Booty" ruled the music charts and Steve Spurrier seemed to land on his booty every time he dropped back to pass for the expansion Bucs:
SIMEON RICE
If the Bucs want to continue to salute their Super Bowl championship team, Rice is the obvious pick. He joined Tampa Bay in 2001 after five distinguished years in Arizona and his hulking presence off the right edge was a key component in the title chase.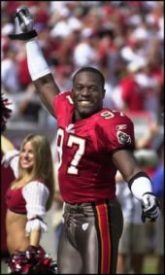 Rice was a dominant force for five years in Tampa, leading the Bucs in sacks each of those seasons before a 2006 shoulder injury derailed a career that seemed destined for Canton. He could still get there, considering he still stands 20th on the all-time sack list with 122.
And let's remember that Rice easily could have been selected as Super Bowl MVP if the NFL hadn't demanded an early vote. Rice dumped Rich Gannon twice and forced a fumble, living up to this reputation as a big-game player. In five postseason games with the Bucs, Rice posted 7 sacks and 4 forced fumbles. Rice's Ring of Honor day is coming – the only question is when.
HARDY NICKERSON
When Nickerson signed with the Bucs in 1993 after six years with the Steelers, he was shocked by the losing attitude in Tampa. The Bucs were in the midst of a 14-year playoff drought and Nickerson wasn't having any of it.
He announced his intentions in his debut season with the Bucs by leading the league with 214 tackles.
But besides earning five Pro Bowl invitations during his seven seasons in Tampa, Nickerson ushered in a winning culture. He bridged the transition from Sam Wyche to Tony Dungy and served as a mentor for a young Derrick Brooks.
Few players in franchise history exhibited mental toughness and focus like Nickerson. In short, the man was a winner.
WARRICK DUNN
This versatile back out of Florida State was the 12th pick in the 1997 draft and promptly earned Offensive Rookie of the Year honors, combining with Mike Alstott in a dynamic backfield. He topped the 1,000-yard rushing mark twice in his first 5-year stint with the Bucs before signing with Atlanta.
Dunn returned in 2008, only to be swept out the door at the end of the season in a veteran purge that also claimed Brooks and Ike Hilliard.
When Dunn retired, he stood 14th on the NFL's all-time list for all-purpose yardage. Add in the amazing charity work that earned him the Walter Payton Man of the Year Award and it's easy to make a compelling case for Dunn's name in the rafters.
JAMES WILDER
His final carry for the Bucs came 30 years ago, but Wilder still holds the franchise record for career rushing yards, almost a thousand more than Alstott. He also tops Tampa Bay's list for most career receptions (430), although Mike Evans will supplant him this year if he stays healthy.
Wilder wasn't a consistent threat throughout the 1980s, but he was a big-time player at his peak. In the middle of the decade, while playing for some bad Buc teams, Wilder was a durable terror. He carried 407 times for John McKay in 1984 and 365 times for Leeman Bennett in 1985, gaining 2,844 yards on the ground.
Wilder caught 85 passes in '84 and scored 13 touchdowns. From 1982-85, Wilder led the Bucs in rushing and receiving EACH season. Those Bucs didn't have much besides Wilder, but on some Sundays in the fall, that was enough.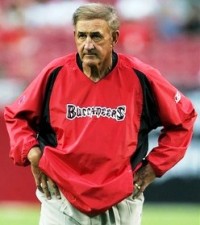 MONTE KIFFIN
It didn't end well for Kiffin in Tampa, but for virtually all of his 13 years as defensive coordinator, his Cover 2 was the envy of the league.
Sure, Kiffin was surrounded by Hall of Fame players, but even after Warren Sapp and John Lynch departed, Tampa Bay's defense remained stout. That's because Kiffin wouldn't stomach a loaf and held his unit to the highest standards.
Kiffin's undersized defense swarmed to the football and forced turnovers by perfecting a simple scheme that fooled no one and neutralized almost everyone.
That proud defense fell apart in December of 2008 once word leaked out that Kiffin would soon be joining his son Lane at the University of Tennessee. There was bad blood for awhile between Kiffin and Jon Gruden, but time has healed those wounds and Kiffin deserves to be recognized as one of the premier defensive minds of his generation.