"The Continuation Of The Dumbest Penalties I've Ever Seen"
August 16th, 2019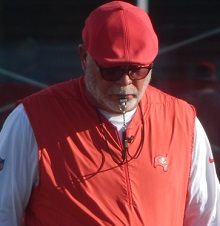 Plenty of good and plenty of miserable tonight on the field at the Den of Depression.
Bucco Bruce Arians' head is shaking at his second and third units.
He can't believe their sloppiness. Bucs fans watching the good guys beat the Dolphins tonight would agree.
"They're lucky we're not cutting tomorrow," Arians said, noting the units delivered "the continuation of the dumbest penalties I've ever seen."
Arians was barking following the preseason opener about the sloppy play and loads of penalties. The Bucs dropped that to just eight penalties tonight, but Arians was miffed about hitting a Miami quarterback in the head and more. Most teams like to keep penalties to a maximum of five per game.
To be fair, a 45-yard Dare Ogunbowale run early in the third quarter was wiped out by what Joe thought was a horrible call of holding on undrafted free agent offensive lineman Zack Bailey.
Arians said he was happy with the overall play of his top-20 players, so that's a very good thing.
Joe loves how Arians will call out crappy play and threaten to make cuts. It's refreshing and fun.