"He's My Guy"
August 24th, 2019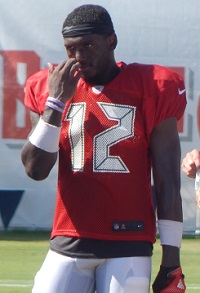 Former Bucs head coach Dirk Koetter used to say the Bucs had three true No. 1 receivers.
Yes, the Bucs were overflowing with weapons last season.
Obviously, Mike Evans was the top-dog No. 1, and DeSean Jackson and Chris Godwin were the others.
Jackson was traded and now Godwin is primed to shine and his strong preseason continued against the Browns last night. Evans was inactive with a (minor?) injury and Godwin had the full attention of the Cleveland defense.
No problem.
Godwin had four catches for 52 yards in half a game, and he flashed his sure hands and yards-after-catch ability again.
"He's my guy," Jameis Winston said after the game.
"Chris, to me, is a No. 1 [receiver]," Arians added.
Workman–like Godwin said staying methodical will be a major key for him and Jameis.
"It is just really something we work on at practice. That is all we really have to do, don't have to go out there and try and do anything spectacular, nothing over the top," Godwin said. "We just have to play like we have been practicing and have everything fall into place for us."