Thank You, Shaun King!
August 27th, 2019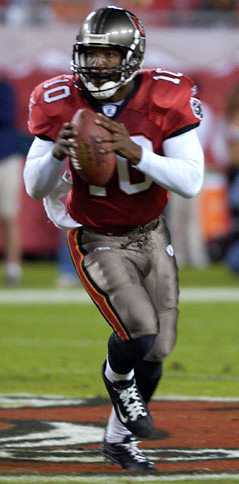 A research direction took Joe on a dark, dark path in the wee hours of this morning, one that outlines the unspeakable suffering of Bucs fans.
The data focused on a key element to the game of football: points. Only once in the history of the Buccaneers franchise has Tampa Bay ranked in the top-10 teams for points scored in a season. Once!
For those confused, Joe will translate. Through 43 NFL years, the Bucs have only been special at scoring points in one season.
That's hard to do — and hard to comprehend.
The year was 2000, when 23-year-old quarterback Shaun King made 16 starts alongside a punishing running game. And of course, the Bucs were complemented by a defense that put up four touchdowns, plus Karl Williams took a punt return to the house.
Those Bucs averaged 24.3 points per game, good for sixth-best in the NFL. Last year, the Bucs racked up 24.8 points per game, but the league has changed to favor offenses. Scoring is up and that total ranked the Bucs at 12th in the league.
Joe is sharing this for no particular reason other than to commiserate with fellow fans.
Is this the year the Bucs finally step back in time to the Shaun King era?
Of course, after putting up all those points in 2000, the Bucs immediately fired their offensive coordinator and quarterback. But at least the two moves helped usher in the Jon Gruden era and the greatest memories in Bucs history.