Ronde Barber: "Dominant" Vita Vea
August 16th, 2019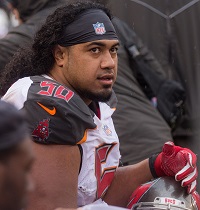 Alex Cappa's having a great summer, locking down the right guard job. Ndamukong Suh is a terror, and Vita Vea was "dominant" before his injury.
So whose asses are these guys woopin'?
This was a subject that arose in the Ira Kaufman Podcast today. Ronde Barber was heard there calling note tackle Vea "dominant," naming him the stud of training camp with respect given to Vernon Hargreaves.
"He was having the best camp of anybody," Barber added about Vea.
Joe noted several times this spring that Vea looked like he returned for his second season with a new level of fitness and desire. He looked like a guy who would make that second-season leap.
But again when considering this, Joe has to ask about the other side. Who is Vea beating regularly? It's not like he participated in joint practices.
Joe's been told from true Bucs insiders how great Suh has looked at the other defensive tackle. Great! Who is he putting a hurt on, especially considering Cappa is playing solid football? Is big-bucks center Ryan Jensen having that difficult of a time?
No, Joe's not cracking on Jensen, just illustrating that shining — or sucking — in camp is always a very slipperly slope.
It's definitely the time of year when fans are extra yearning for a real game.
Tonight at the Den of Depression, the Bucs likely will play the worst team in the NFL on a soggy field in their preseason opener. And Bruce Arians isn't expecting much time from his starters.
Enjoy the football. But don't strain yourself trying to figure out what it really means for the big picture. It's not worth too much effort.