Medical Clearance For Lavonte David
August 30th, 2019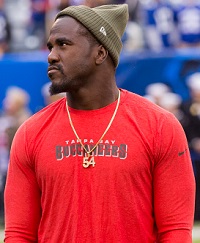 Five sacks, four forced fumbles, an interception, a touchdown and 17 tackles for loss, Lavonte David was a monster with Mike Smith's 2016 Buccaneers defense, the best third-down defense in the NFL that year.
Joe's hoping can back to that kind of game when the Bucs kick off the 2019 regular season in nine short days — wherever that game might be played.
David, 29, had a minor knee surgery 3 1/2 weeks ago and missed all of preseason. Today, Bucco Bruce Arians told the world at One Buc Palace that David is cleared to practice when the Bucs start working again Tuesday.
This is fantastic news. And Joe believes David on the field will help rookie linebacker Devin White better settle in to his savior role.
You just know the competitive juices will be flowing through David knowing is good buddy Kwon Alexander is jacked up on playing for the 49ers against his old mates.
Will David be rusty? Sure. But Joe will take a rusty David over the Bucs' other options in a heartbeat. Also, David has shown through his career that he can bounce back from minor injuries. Knee surgery, though, however minor, can be a different animal.