Lavonte David Has "Swelling"
August 2nd, 2019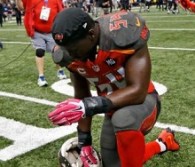 Yes, Lavonte David sat out practice Friday night with swelling.
Joe's going to be positive and hope David's face was swollen after smiling so much watching Ndamukong Suh and Vita Vea dominate the Bucs offensive line.
Alas, that's unlikely.
Bucco Bruce Arians told local media tonight that David is no fan of the Glazer Shed turf and he had "swelling," so he got the night off.
Joe doesn't recall anyone asking Arians where the swelling is, hence, Joe's optimism has a chance of being true. But the greater chance is that David, 29 years old and a veteran of 105 games, is a guy who's body needs those veteran maintenance days. And he just got one.
Joe sure hopes it's not a knee.
Joe spoke with David after practice Thursday night for a future story and David didn't appear to be in any discomfort at all. At times, David was quite happy.