Jay Cutler Talks Jameis Winston
August 30th, 2019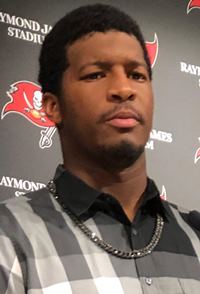 Jay Cutler knows what it's like to be a 25-year-old Pro Bowl quarterback.
And after that impressive 2008 season in Denver, Cutler was traded to Chicago in a blockbuster deal that reeled in two first-round picks for the Broncos.
Cutler had a few strong seasons in Chicago, but history will view him as an odd guy who never was quite good enough to get a team over the hump.
Cutler was talking quarterbacks on CBS Sports Radio this week and spoke with a little concern in his voice about America's Quarterback, Jameis Winston, and the pressure he'll be under following the launching of Dirk Koetter.
He praised Jameis for being able to make plays with his feet and through the air, but Cutler wondered how quickly Jameis will be able to play his best game in a new offense with a contract on the line.
"For Jameis, it's a new coach, new system; he's gotta to overcome that and try to be successful, which isn't easy," Cutler said.
It's an often overlooked element to the marriage of Jameis and Bucco Bruce Arians. Yes, the head coach is the quarterback whisperer and Jameis is a veteran with great receivers, but it's still a new system. In Cutler's first season with the Bears, he led the NFL with 26 interceptions. A year later he was playing in the NFC Championship game.
Of course, if Jameis threw 26 interceptions this season, he'd be placed on the next bus to Raiders headquarters.