Jameis Credits Andre Ellington For The New RoJo
August 8th, 2019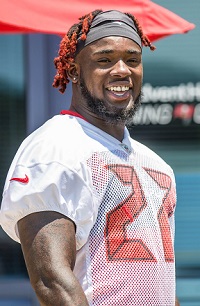 Joe will believe in the new Ronald Jones after he has a solid preseason and has one complete game during the regular season.
Jameis Winston has a different point of view.
America's Quarterback addressed the nation yesterday on SiriusXM NFL Radio and talked about the emergence of RoJo.
Jameis said RoJo came to training camp "locked and loaded" and he's thriving thanks to one of his new teammates.
"I think it's because [RoJo] has a veteran in the room with Andre Ellington, who has came in as kind of a similar back as RoJo, who we can split out," Jameis told co-hosts Pat Kirwan and Jim Miller. "We do a lot of five-wide here and it's just created a confidence in him, probably making him feel real at home like he was at [USC]."
Interestingly, general manager Jason Licht talked to Kirwan and Miller yesterday and gave a long explanation of why new running backs coach Todd McNair is extraordinary. And Licht credited him with a lot of RoJo's resurgence.
Yes, it's a RoJo love party at One Buc Palace.
Running back is supposed to be one of the easiest positions to transition from college to the NFL. Maybe not the pass blocking duties or pass catching (if you weren't a college pass catcher), but certainly the running part is a basic transition.
That's why so many rookie running backs are successful quickly. But RoJo couldn't pull off running the ball last season.
With all this hype, Joe can't wait to see how RoJoe performs. The funny thing is that if he can average 4 yards per carry, or even 3.7, it's going to feel like the Bucs actually found dynamite back.