Is Vernon Hargreaves A No. 1 Corner?
August 22nd, 2019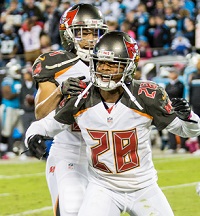 Want an X-factor to the Buccaneers' season, here's a big fat one to consider:
Is Vernon Hargreaves really a No. 1 cornerback? Not a solid No. 2, not a great nickel like the last regime considered him to be, but a true No. 1.
It might be the most important question on the Bucs defense, Joe believes, as 2019 training camp and preseason have not revealed another cornerback to be a potential candidate to successfully fill the No. 1 role early this season.
So it's Hargreaves' job, and it would be downright horrific if he's not up for it — at least average.
Joe can't answer the question. Through three NFL seasons, Hargreaves has never been the No. 1 guy play after play after play, getting tested by the stud receivers of the NFC.
He hung tough as a 2016 rookie on the NFL's best third-down defense (statistically), but that was with Brent Grimes playing lights out opposite him. Grimes led the NFL with 24 passes defensed in 2016; Hargreaves had nine in 16 starts.
The Bucs are in sort of a bizarre spot with Hargreaves. His fifth-year contract option could be worth close to $10 million next season. But what if he just has an ok 2019 and appears to be more of a No. 2 corner (no shame in that). Then what would the Bucs do?
As much as Todd Bowles likes to blitz and plans to, there should be loads of answers available on Hargreaves by the Week 7 bye.
Good answers probably will mean Ws for the team. Bad answers and, well, Jameis Winston likely would be under pressure to put up a lot of points on the road to keep the season afloat.
Unfortunately, Pro Bowl Browns receiver Odell Beckham is not expected to play against the Bucs on Friday at the Den of Depression. Hargreaves could have used the challenge. Regardless, there are plenty of good tests coming Hargreaves' way.
Good luck, Vernon.