"Hungry"
August 12th, 2019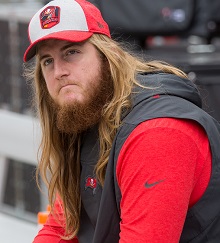 All that jerking around of Alex Cappa last season didn't do the guy any favors.
That's the sentiment of one of Cappa's teammates.
The big man on campus — and the old man — Demar Dotson talked to JoeBucsFan.com manbeast intern Zachary Seifter today and weighed in on the Bucs' new starting right guard.
Dotson likes what he sees and count Dotson among those who's glad the Bucs won't be rotating guards through games like they did at right guard last season and at left guard during the previous seasons.
"I think he's getting more comfortable," Dotson said of Cappa. "You know, he don't have to, you know, look down his shoulder competing with somebody else."

"I know last year they put him in a lot with Caleb [Benenoch], you know what I'm saying; he was [substituting] back and forth. So he was always looking over his shoulder. Now he came in this year and they almost like thrust him as the starting right guard. So I think he's been doing a good job taking control of that position, man. He's smart. He's physical. Man, the sky's the limit for him. I mean, he's got a lot get better at, which we all do. But he's young, he's talented, he's hungry, he's smart. He's doing a good job right now, man. So as long as he continues to work, which I know he is, continue to get better, he's going to be a pretty good right guard in this league. So I'm excited for him."
Simply stated, it seems Bucco Bruce Arians made Cappa "the man" and he's run with it. And he's likely making that famous sophomore leap that most good players do.
If Cappa is the fix at right guard, that should massively help the Bucs this season, but more important fill a glaring hole that would have eaten up future draft capital or salary cap cash.