Devin White Talks Adjusting To Dropping In Coverage
August 12th, 2019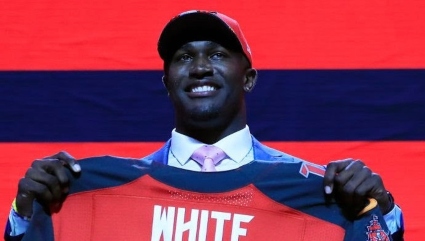 The heralded rookie savior of the Buccaneers defense is in the midst of a learning curve.
How could he not be? This is the NFL and Devin White has been thrust into a defense that's new for everyone around him except for fellow linebacker Deone Bucannon.
There are many moving parts and much to learn. White talked about adjusting to dropping in coverage during his recent sitdown with SiriusXM NFL Radio.
"I say that was like one of the toughest things because in college we played a lot of man, or like we was rushing the passer a lot," White said. "But now it's just, you gotta be on that point. You gotta be on that certain landmark. You gotta let the ball bring you down to the checkdowns. In certain defenses, you gotta know the sticks."
White went on to say how great the Bucs tight ends are and how much they are preparing him to cover tight ends around the NFL.
If he screws up, White said, the defensive coordinator steps in.
"That's a big emphasis, being in your spot. Because if you're not, Coach Todd [Bowles], he'll slow the play down, walk through it, and show you exactly where he needs you."
Joe's not worried about White, though Joe doesn't expect him to be the instant superstar that Bucs officials are banking on him to be. Joe never wrote that White was a bad player, only a bad draft pick. Big difference.
White went on to talk about his endless notes and how much he embraces his responsibility to know the entire defense so he can coach everyone on his side of the ball, if necessary in games.