Pulse Of The Fans – Day 13
August 12th, 2019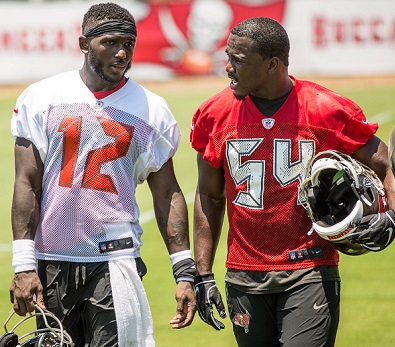 Light crowd at One Buc Place today as the team held its last solo practice of the week before the Miami Dolphins join the Bucs tomorrow and Wednesday. Still, passionate fans representing the pewter and red were there and manbeast JoeBucsFan.com intern Zachary Seifter asked several folks about their beloved Bucs. They were happy to talk:
Question 1: On the field, what do you believe is the Bucs' biggest strength right now. Provide a reason why.
Summary: The fans didn't have a hard time with this one. Almost everyone said the offense, particularly naming the receiving group as the strength of the team. Many were quick to point out they expected improvement on the defensive side of the ball, as well as improvements in the running game, but these receivers and tight ends are by far and away the most proven and talented group on the team. With Mike Evans, Chris Godwin, O.J. Howard and Cameron Brate, along with young receivers showing flashes, it's tough to argue with the fans; this group is special.
Question 2: Who is more worthy of the Pro Football Hall of Fame, John Lynch or Ronde Barber? Provide a reason why.
Summary: This question proved far trickier to answer. Both Lynch and Barber were pivotal pieces and made Tampa Bay's defense the most feared in the NFL for years. The fans had an incredibly hard time answering, as many felt both are very deserving. But of the two, Barber came away with the most votes. And a large majority had the same reasoning. That reason is he spent his entire career in Tampa, while Lynch spent his last four years in Denver. The fans said loyalty matters, which is why they rolled with Ronde.