Arians Says He Could Cut 30 Guys Right Now
August 14th, 2019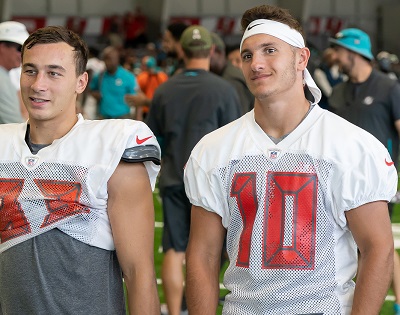 The fear factor should be high at One Buc Palace.
The roster is coming into a very sharp focus for the head coach and he's not afraid to say that he could cut plenty of guys right now and not blink.
"Our rookies have gotten close to 500 snaps," Arians said of his practice sessions. "So we kind of know what they can do now. It would be easy to cut down to 60 right now — for me. But again, we got he preseason games coming up and maybe guys can show up more when the lights come on than they have in practice."
In the picture above is rookie receiver Scotty Miller after practice yesterday, the Bucs' speedy sixth-round pick out of Bowling Green. He's nursing a hamstring injury and has been missing valuable time and exposure. Joe's not sure he's done enough yet to make the team.
Is he in Arians' top-60? That's a team secret, of course. But Miller might be way down the depth chart of Bobo Wilson flashes on special teams on Friday against the Dolphins, and if Justin Watson starts squeezing footballs.
Joe enjoys Arians putting numbers out there — ones sure to freak bubble players out.