Arians' Son: "The Entire Season Hinges On This Offensive Line"
August 19th, 2019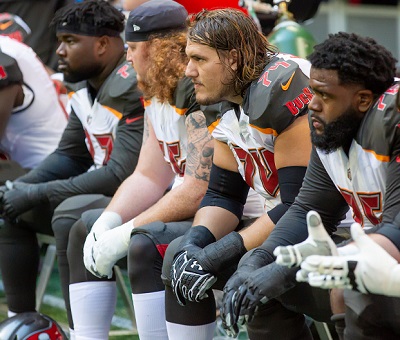 Bucco Bruce Arians' son Jake, an NFL analyst and a former NFL kicker, doesn't hide that he has plenty of information about the Tampa Bay Buccaneers.
As training camp opened, the younger Arians talked about keys to the Bucs season. And he was very clear-minded.
"You have an offensive line that's very close and pretty good but can't sustain a lot of injuries," Jake Arians said, speaking on The Draft Network fantasy podcast. "They're not very deep on the offensive line and that's bitten them in the tail in the past. Now Jameis, he can move around enough. It's goofy looking but he can do it. If they get some chemistry with those receivers, or they get a running back he can dump it off to when that happens, I think they can still be ok.

"But to play devil's advocate, that's the one thing that can bite them is that offensive line. If all five guys play together, I say this all the time: Look at the Rams the last two years. Their offensive line wasn't great. They played together every week. That cohesiveness when they're close, and this is a close-knit group in that [Bucs] room. I think the entire season depends on that offensive line. They got faster on defense; they got faster team speed; they're special teams are going to be better. The entire season hinges on this offensive line."
Interesting take from the head coach's son. Joe sat on this chatter for a few weeks, wanting to see if the Bucs made any big moves on the offensive line. They haven't — not yet. However, it has become very clear that depth is a greater concern.
Evan Smith got booted quickly. Caleb Benenoch looks like, well, himself. Earl Watford has been banged up. Mike Liedtke was lost with an injury, and overall the second-team Bucs offensive line has been bad rough in preseason.
Joe would bet a healthy amount of cash the Bucs sign a veteran O-lineman in a hurry when cuts happen around the NFL following the fourth preseason game. Four years ago, the Bucs signed Joe Hawley and Gosder Cherilus late that summer and were dominant running the ball in the regular season.
So it's not too late to bolster an offensive line that largely was ignored this offseason.
A few other nuggets from Jake Arians:
"You're not forcing it to anybody" will be drilled repeatedly to Jameis Winston, he said during a conversation about the Bucs pumping balls to Mike Evans in past years.
Arians also poured a little cold water on a 100-catch season for Chris Godwin, but he said, "an 80-catch, 1,100-yard season with eight touchdowns. I think that's very much in the cards."
"You want a nugget? They're high on [Breshad Perriman]. The talent is there," Arians said, adding fantasy fans should expect four or five deep shots per game to Perriman.