Arians Says Hurricane Dorian Could Screw Up Waiver/Free Agent Signings
August 30th, 2019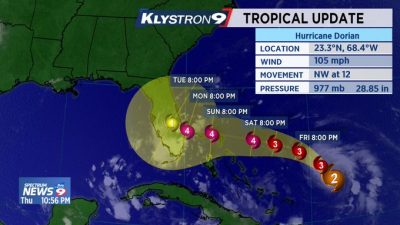 Hurricane Dorian is definitely on Bucco Bruce Arians' radar and he talked about it after tonight's preseason finale in Dallas.
First, rather than practice Monday and have a typical Tuesday day off during a game week, Arians told the Buccaneers Radio Network the Bucs will be off Monday and will practice Tuesday up until opening day against the 49ers on Sunday, Sept. 8.
Arians said he and general manager Jason Licht are likely to pounce on cuts and waiver claims over the weekend, but Arians said the storm could screw things up because of transportation issues. "Claiming people and getting people there [to practice] could be a problem," he said.
Joe wonders whether the weather could affect the Bucs' decision to claim a player they were thinking of using immediately.
If a player, say in Minnesota, is awarded to them Monday on waivers and he can't get to Tampa quickly, or to whatever city the Bucs relocate to for practice, then his value is diminished. And then Week 2 for the Bucs is a short turnaround, Thursday Night Football in Charlotte, which means little practice time that week.
Messy and scary times.