Bruce Arians And Playcalling
August 22nd, 2019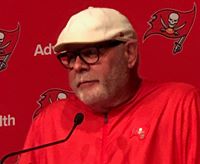 There were reports earlier this summer that Team Glazer, when they talked turkey in hiring a new coach in January, wasn't exactly giddy about Bucco Bruce Arians not calling plays for his offense.
It seems, the genesis of this series of events began with fellow NFL owner Michael Bidwill.
The big cheese of the Cardinals last offseason fired his coaching staff, which included current Bucs offensive coordinator Byron Leftwich. So with Leftwich pining for work, he was ripe to be picked up by Arians.
And in a conversation with Albert Breer of theMMQB.com when Breer did his drive-by at One Buc Palace earlier this month, Arians told Breer the only way he would have given up playcalling duties is if Leftwich replaced him.
"That was one of the decisions I made in the (2018) offseason, where it was if I went back in the right situation, and Byron was available, I'd have him do it," Arians told me. "If Byron was not available, I'd be calling them, because I haven't trained anybody else."
Now Joe has already stated (and it really bothers some Bucs fans but Joe is being fully genuine) Leftwich has something to prove after he was part of a total disaster offensively in Arizona, which included the meltdown of a quarterback picked in the first round.
Still, it is difficult for Joe to believe Arians will not be heavily involved in developing offensive gameplans each week. And you just know Arians will be in Leftwich's ear on gameday. So while Leftwich may be physically calling the plays, it's reasonable to assume Arians will direct Leftwich what type of plays to call and when.
It sort of reminds Joe about a scene in one of the greatest movies ever made, "Patton." Gen. George Patton was dealing with a bruised ego. He thought he won a battle in North Africa over famed German tank commander "The Desert Fox," Erwin Rommel. But Rommel was in Berlin dealing with an ear infection.
An aide to Patton consoled him, "If you have beaten Rommel's plan, you have defeated Rommel."
There is no question in Joe's mind the offensive gameplans will be Arians'. Leftwich will be the one directed to execute them.