"64 Mental Errors, We've Never Had More Than 32"
August 2nd, 2019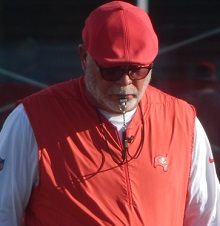 Bucco Bruce Arians likes what he sees from his team, he said tonight, but he also emphasized that he's got a close eye on their inconsistency in training camp.
Bucs fans know that the most consistent thing about the Bucs since the 2010 season has been their inconsistency. It's been eye-opening. Even the 9-7 season of 2016 featured a 3-5 start and some truly horrid defensive performances by the same team that finished the campaign as the best third-down defense in the NFL.
The Bucs started 6-4 in 2012, and then they were 6-9 entering the season finale. In 2011, a 4-2 start with wins against good teams turned into a losing parade of 10 in a row. Lovie Smith appeared to right the ship in 2015, but then his club lost four straight to close the season and he was fired.
America's Quarterback, Jameis Winston? The dude hasn't freakin' won a road game since 2016. Now that's consistency!
After training camp practice tonight, Arians talked about seeing "64 mental errors" on his famous accountability sheet after Thursday's practice. "We've never had more than 32," Arians said in disbelief. But yes, the Bucs were much better tonight and Arians said Thursday might be the result of a bad adjustment to a night practice following a day off.
But as Arians said, it just doesn't matter. When your bell rings, you have to answer it, morning, afternoon or night.
Arians added he wants to see how the team focuses with an 8 a.m practice next week.
Joe just wants to see consistency. That would be a real sign of culture change.