"The Thing That Strikes Me Most About Jameis Is His Care For Other People"
July 27th, 2019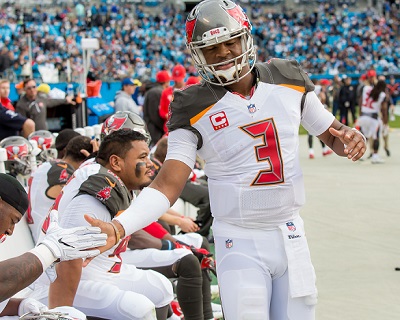 Buccaneers savior linebacker Devin White calls himself the "quarterback of the defense." So Joe asked White about his impressions of the quarterback of the offense.
White had plenty to say — and it wasn't an empty answer.
"I say the thing that strikes me most about Jameis is, like, his care for other people," White said.

"You know, he's always willing to go beyond for everybody else, you know, and put everybody before himself. And just how much he puts the team before himself. Because even with us being here for the quarterback school, Jameis, when I get here he be like the first one in the building and when I leave — like called him the other day to use his truck to be able to transport some TVs and stuff from the store, and I was like, 'Yeah, where you at? You coming from your house?' He was like, 'No. I'm still at the facility.' So that just lets you know how much he care and how much he wants this team to succeed. He know it starts with him because he the quarterback of the offense. So, I love seeing that approach from him, and it kind of let me know where I need to be as player, too, being the quarterback of the defense."
Jameis does so many things right and nobody has ever questioned his work ethic and commitment since Day 1.
Sometimes that makes Joe wonder whether Jameis has nearly hit his ceiling as a QB. That's not necessarily bad, but it's not an inspiring thought, either.