Talkin' To "The Moneybacker"
July 29th, 2019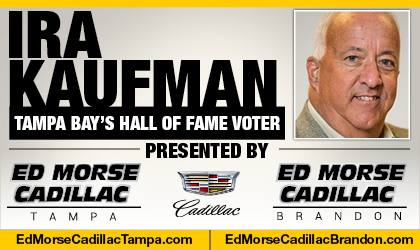 BY IRA KAUFMAN
Whether you're a gymnast, a money-market manager or an NFL head coach, flexibility is a beautiful thing.
Tampa Bay has ramped up its speed on defense significantly in the offseason, according to Bruce Arians, but there's another key element to this overhaul. In adding veteran Deone Bucannon and rookie Mike Edwards, new coordinator Todd Bowles has some versatile pieces to move around and create havoc.
"Yeah, that's huge when you have guys who are position-flexible to play two or three spots," Arians says. "Either one can be the back-half safety or they could be covering the back blitzing, so you can't just say, 'Hey, 23 (Bucannon), he's this or that,' because you never know if he's coming off the edge. So, it's fun."
Vita Vea is another potential wild card for Bowles, lining up inside next to Ndamukong Suh in the standard 4-3 or perhaps shifting to end when the Bucs utilize a 3-man front.
But it's Bucannon who earned the moniker "Moneybacker" in Arizona for his effectiveness as a safety/linebacker hybrid.
"Coach Arians gave me that title," Bucannon told me after a recent training camp practice. "It means being an athlete, a guy who can play in the box or line up on the outside, a versatile guy you can count on to make plays. We've got a lot of guys like that around here."
Bucannon, who turns 27 in a month, is entering his prime years. He started 9 games for the Cardinals as a rookie in 2014, when Arizona went 11-5 with Bowles orchestrating the league's No. 5 scoring defense.
Bowles was hired as head coach of the Jets before the start of the next season and now Bucannon is reunited with one of the NFL's sharpest defensive minds.
"The word I would use for Coach Bowles is aggressive," says Bucannon. "We're going to get after you and at the same time, we've got athletes who can back that up. Being aggressive, you have to make sure you have the athletes in the back end to be able to cover.

"You're seeing us get our hands on a lot of balls here in training camp. Coach Bowles mixes it up and gives offenses the full gamut. He's going to bring it."
Edwards appealed to the Bucs as a defensive back equally comfortable at corner or safety. Bowles will find a way to get him on the field in crunch time.
"He (Bowles) likes to mix it all up," Edwards says, "so there's not really one main thing, like a free safety just playing the middle field. I blitz, cover guys, stack the box and different things like that. So, he definitely has a great scheme for our defense. I just try and prepare for whatever he sets me up for and wherever I line up. I've been doing that since college and high school. I've been playing all over the field."
When Bucannon reached free agency in March, he got a phone call from Arians, who realistically had Bucannon from hello.
"The decision was super easy because this is what I'm comfortable with," Bucannon says. "He's always treated me like a man and treated me with respect. I feel good out here, hoping to continue to stack the bricks. The energy I see around me is great."
Leading the charge is a young man out of LSU, chosen with the fifth pick in the draft and immediately charged with critical responsibilities.
"His mental approach is what impresses me the most," Bucannon says about inside linebacker Devin White. "He's a lot more advanced than most rookies I've been around. We're putting a lot on him and he has handled it great. He knows the calls and as for his talent, that's not even a question."