Suh The Person
July 30th, 2019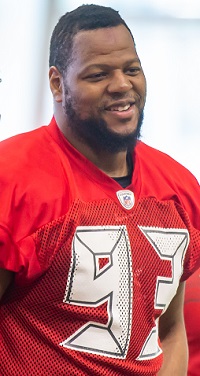 BY ZACHARY SEIFTER
Manbeast JoeBucsFan.com intern
Coaches often only talk publicly about the football sides of their players.
Rarely does the personal side come up.
But that is what defensive coordinator Todd Bowles wanted to talk about today when the subject of defensive tackle Ndamukong Suh came up.
JoeBucsFan.com asked Bowles for his impressions of Suh now that he's worked with him in person. Bowles noted that while five days of camp wasn't enough for him to evaluate the football side of Suh, he has loved getting to know Suh the person.
"Five days," Bowles answered with a wide smile and a chuckle when asked about his impression of Suh. "No different than they were when we got him, you know, as a free agent. He's a very smart player, he's a very tough player. Getting to know the personality has been very refreshing, you know, he's very quick-witted. He's a good jokester and he's a kind-hearted person and when it's time for business he's ready to play."
Bowles has very much been known as a players' coach during his time in the league. He's had players' backs, and in return they have had his. So it isn't surprising to hear Bowles has enjoyed getting to know Suh, or that he is concerned with more than just Suh the football player.
Ultimately though, the Glazers are paying about $10 million for Suh the superstar football player, and that's what they are expecting to get.