Reporter Asks Bruce Arians: "Coach, In Your Opinion, Can You Win Consistently In The NFL With A Substandard Running Game?"
July 26th, 2019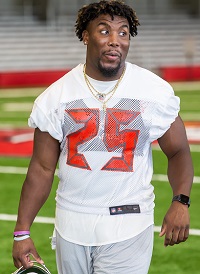 Bucco Bruce Arians said he likes the pass protection of his running backs through one training camp practice this afternoon/evening.
And he likes the running vision displayed by those backs.
But one reporter at Arians' post-practice news conference seemed to be a non-believer following Arians talking positively about the backs. This pen and mic club member followed up with a line of questioning Arians wouldn't bite.
Reporter: Coach, in your opinion, can you win consistently in the NFL with a substandard running game?

JoeBucsFan.com: We won't have a substandard running game; we'll have a damn good one. Like I said, I like our backs. They're the [kind] of backs I like, and we're going to block and we're going to commit to the running game. So we'll have a good running game.
Hey, Joe hopes the new coaching staff changes the attitude of the offensive linemen when it comes to run-blocking with an edge consistently. The O-linemen certainly have the necessary talent but perhaps the wrong mindset, too, based on last year's film.
If Arians and friends can get that done, Joe's not worried about Peyton Barber moving the chains, though Joe doesn't expect him to move them too far. "Substandard" or not, if the 2019 Bucs running game can at least get the attention of defensive coordinators and linebackers, that should make the offense a whole notch better than last year.