Quarterback Notes, Nuggets & More From Training Camp Day 1
July 27th, 2019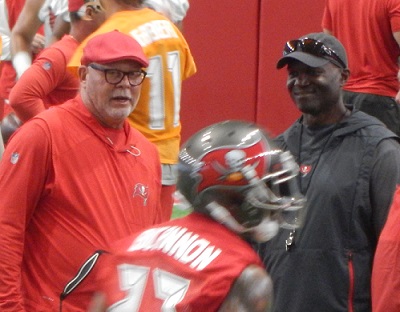 The Bucs opened training camp without pads on inside the Glazer Shed yesterday, and their three quarterbacks showed good and bad in their first day back. Here's how they fared:
*Offensive coordinator Byron Leftwich and a couple of trainers line up a few yards away from each QB, tossing the ball to help them get warmed up.
*Footwork drills begin. Each QB moves around bags on the ground before delivering a short throw.
*Now they move towards the end zone and work on dropping back. Each QB lines up at the 1-yard line and takes a 5-yard drop back before throwing to a waiting coach in the end zone.
*Same drill, but now QB's are taking snaps from the shotgun and taking a 3-step drop. The QB's then return to taking snaps under center and return to a longer drop back.
*QB's turn around and perform the same drill, but now their backs are turned toward the end zone and they are delivering throws to a waiting coach around the 20.
*The horn blows and the signal callers make their way to the next drill. Jameis Winston is seen having a light conversation with Cameron Brate.
*Quarterbacks get to drill with the running backs. First handoffs, then short screen passes. No balls hit the ground.
*The first 7-on-7 session kicks off. Two separate sessions are happening on each side of the 50.
*It has nothing to do with the quarterbacks, but safety Justin Evans is seen at practice without a boot on his foot. Clearly a sign of improvement on that injured heel.
*Ryan Griffin is working with the third-stringers. He completes a few passes but is then intercepted by De'Vante Harris!
*On the other side of the field, Jameis is working with the ones and he too gets one of his first few passes intercepted. This one by Isaiah Johnson! Jameis tried to hit Bobo Wilson but floated it over his head and the leaping Johnson came down with the ball.
*Jameis looks downfield, this time for rookie receiver Cortrelle Simpson. Jameis launches it and Simpson looks to have separation, but Sean Murphy-Bunting shows off the speed that made him a second-round pick as he closes the gap and forces the incompletion.
*Overall, this first session for the quarterbacks is poor. A couple of picks go along with bad incompletions for all three QB's.
*Blaine Gabbert looks for Ronald Jones in the flat and the ball is thrown wide. It hits off one of RoJo's hands, but it would've been a tough catch.
*The 7-on-7 session mercifully ends and the QB's break off to do individual passing drills with the wide receivers.
*Shortly afterwards, the first 11-on-11 session begins. It's nothing but run plays as Peyton Barber impresses with some nice vision and shiftiness.
*11-on-11 continues but now the passing session begins. On the first play Jameis looks off a defender and is able to find O.J. Howard for a large gain over the middle.
*On the other side of the 50, Ryan Griffin continues to struggle as he throws a couple of incompletions. A pass from Griffin finds rookie receiver Anthony Johnson who is tackled by Mazzi Wilkins (accidentally?). The former USF Bull gets physical even without pads.
*On the other side, Jameis finds Scotty Miller over the middle for a 20-yard gain. A sharp route by Miller left him wide open for the easy first down.
*Jameis goes deep again! This time it's to Mike Evans but the ball is intercepted by Jordan Whitehead! The DB's are showing a lot of speed and swagger thus far in this first practice.
*Back to Griffin, who is finding his groove. This time he hits K.J. Brent with a dart along the sideline. Brent shows excellent footwork as he tiptoes his way to a completion before falling out of bounds.
*Jameis looks over the middle for Chris Godwin, but the ball is dropped! A rare drop from the usually sure-handed Godwin.
*Jameis shakes it off and delivers a strike to Cameron Brate but he then drops the pass. Two straight drops from typically reliable targets.
*The 11-on-11 session makes its way into the red zone. Ryan Griffin drops back and his first pass is a dart to Bobo Wilson for an 18-yard score! On the other side, Jameis fires for Mike Evans and hits him for the 18-yard touchdown!
*Next, Jameis finds Godwin for 6 points. Two straight touchdown passes for No. 3. Blaine Gabbert gets a piece of the action and immediately hits Cameron Brate for a short gain.
*Shortly after, Jameis steps back in and hits Brate for a nice gain and a first down inside the 10-yard line.
*Back to Griffin, he faces 3rd-and-3 at the 12-yard line and flips a short pass to tight end Donnie Ernsberger in the flat. Ernsberger takes care of the rest and walks into the end zone untouched for the score.
*Gabbert in again and looks for O.J. Howard in the corner of the end zone but just overthrows him. Howard had the separation and would've scored had the throw been on target.
*Everyone goes to the sidelines to make way for the kicking competition. Matt Gay doesn't see the field as Cairo Santos hits 8 straight kicks, the longest being from 51 yards before sailing a 55-yarder wide right.
*7-on-7 action returns with all players on the same field, no split-team action. Jameis' first pass to Mike Evans falls incomplete. Jameis then comes back with a sharp throw down the right sideline to Justin Watson. A big gain on that play.
*Not previously noted but very important, the running backs were extremely involved today. Jameis, Gabbert and Griffin all checked the ball down a bunch. Whether that was by design or because the DB's were flying is unknown.
*Gabbert steps onto the field and completes three straight passes, the last being a 62-yard bomb to Breshad Perriman. The crowd really liked that one.
*Jameis steps in and looks for Justin Watson but Sean Murphy-Bunting flies in and almost comes up with the interception.
*More check downs from Jameis follow. On his last throw before stepping off, he finds Chris Godwin over the middle for a 10-yard gain. While he had made some poor throws before, Jameis puts a lot of zip on this one.
*Speedster Scotty Miller continues to show of that 4.3 speed of his as he blows by Vernon Hargreaves down the left sideline. He's wide open for a walk-in touchdown but Gabbert overthrows him badly.
*Gabbert comes back and tries to find O.J. Howard over the middle but Jordan Whitehead flies in to break up the pass.
*Breshad Perriman lines up opposite of M.J. Stewart and Perriman flies by Stewart down the right sideline. He's wide open and would have another easy touchdown but again Gabbert misses on the pass. The ball falls a bit too close to the sideline and while Perriman does track it down and make the catch, his feet are just out of bounds for the incompletion.
*Jameis seen talking to Byron Leftwich away from the action. The two are having a very animated conversation. It appears to be about what each is seeing from the defense.
*Ryan Griffin steps in and throws back-to-back check down passes to his running backs.
*11-on-11 action returns and Winston is shaky, completing one of three passes.
*Griffin looks for Bobo Wilson deep down the sideline but overthrows him for what would've been yet another touchdown.
*The rest of the practice consists of run plays as the QB's shut down for what can only be seen as an inconsistent day.
Manbeast JoeBucsFan.com intern Zachary Seifter did a heck of a job on these practice notes. Give the young man a hand in the comments section. 
---
Yes!!! It's a new TAMPA TWO, a training camp kickoff edition. Presented by Caldeco Air Conditioning & Heating, Buccaneers legend Derrick Brooks & Ira Kaufman chop it up in this The Identity Tampa Bay production. And they'll return next week with much more.