Pulse Of The Fans: Day 2
July 28th, 2019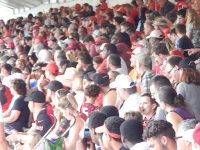 At Day 2 of training camp yesterday, manbeast JoeBucsFan.com intern Zachary Seifter went around asking fans a few questions about the team heading into the 2019 season.
Here is the pulse of the people as typed by Zach:
Question 1: Did you like the Bucs' choice to release longtime DT Gerald McCoy? Provide one reason why you did or didn't like the move.
Summary: These answers were really a mixed bag, as expected. Some fans said they were upset to see him go. Others were happy it happened as it saved the Bucs cash and they were able to replace McCoy with Ndamukong Suh. One answer really summarized those given to this question and it came from Bucs fan Shawn Millard. When asked his opinion on the McCoy release, he said, "I was really indifferent. I knew it was coming. I mean, just from everything you heard. I love Gerald McCoy as a person and was great for the community. I don't think he had great seasons and Pro Bowls (McCoy was a 6x Pro Bowler). I don't think he, unfortunately, lived up to the expectations of ownership and the fans." Many people felt McCoy was a good person and was great for the Tampa Bay community, but ultimately many saw this coming and believed he was overpaid, and many weren't exactly disappointed or devastated by his release.
Question 2: Out of the three defensive backs taken by the Bucs in this passed year's draft, which one do you think will have the biggest effect on the defense? Provide a reason why.
Summary: There were two main answers that came from fans for this question. Those two answers were, "I don't know who those guys are," or it was "Sean Murphy-Bunting." Bucs fan Daniel Nealy gave very good insight as to why he felt Murphy-Bunting will be a big player for the Bucs this year: "This is my first time being able to come out here and watch him actually practice and do stuff, but just hearing all about him and how Bruce Arians has high praise about him, I think he'll be a very important piece to our defense."
Question 3: Between Matt Gay and Cairo Santos, who would you like to see win the kicking competition? Give a reason.
Summary: Not one person said Cairo Santos straight up to this question. It was all Matt Gay. The reason? Bucs fan Daryl Gipson provided the answer given by most Bucs fans. "Honestly, I would prefer the guy that we drafted because we did use a draft pick on him," Gipson explained. "I know we have a history of using draft picks and them not panning out so I'm rooting for this one this time."
The Bucs do indeed have a dark history of using draft picks on kickers. However, many fans are rooting Gay on to somewhat heal the pain that the ghost of Roberto Aguayo still causes.