"Pressure Off The Defense"
July 11th, 2019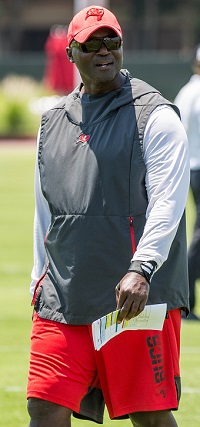 Interesting take this week by Cameron Brate as he chatted 1-on-1 this week with manbeast JoeBucsFan.com intern Zach Seifter.
Nursing his hip that is now healthy and ready for NFL football, Brate had plenty of time to study the revamped Bucs defense.
And his Harvard mind concluded that the diversity in Todd Bowles' scheme and playcalling is soothing to the Bucs defense. Yes, a Bucs defense more familiar with a status-quo (woe?) approach the past couple of years.
"With Coach Bowles in there we're going to be a really aggressive defense who's going to make it hard for the offense," Brate said. "The [Bucs] offense really got a glimpse of that in the spring. So many different looks in different situations that you don't expect. And when you have a coach like that, it kind of takes the pressure off the guys on defense. So I think, you know, the combination of the new talent, you know, some of the rookies, Devin [White], Jamel [Dean], Sean [Murphy-Bunting], they showed a ton of promise during the spring."
Very insightful by Brate. And Joe wonders whether Brate has heard from defensive players that they feel like they're in much better hands with their new coaches. He's sort of saying there will be more confidence in this year's defensive staff.
Imagine that.