The Insurmountable Four
July 3rd, 2019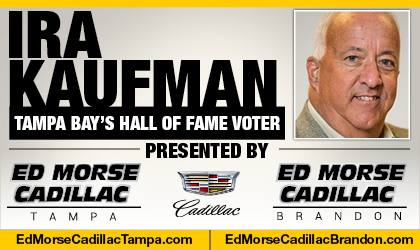 BY IRA KAUFMAN
From a sports writing perspective, my timing couldn't have been worse.
United Press International transferred me from New York to Tampa in early 1985, so I began covering the Bucs that fall.
Two franchise icons had just retired — Lee Roy Selmon and John McKay. Tampa Bay had just gone 8-24 in the previous two seasons, but at least the Bucs were interesting because McKay always had a wisecrack worth writing about and Selmon was still making Pro Bowls.
The only two times I saw Selmon play in person came during the 1979 postseason, when UPI sent me to cover the Bucs against the Eagles and Rams. Tampa Bay's defense played very well in both games as the Bucs came up one game short of the Super Bowl in only the fourth year of the franchise.
In '85, the Bucs promptly went 2-14 under Leeman Bennett in each of my first two seasons in Tampa, highlighted by the Bo Jackson draft fiasco.
Still, I've been privileged to watch some great Buc players over the years. While the NFL celebrates its centennial season, it's worth noting that Derrick Brooks (#97) and Selmon (#98) made the list of the top 100 players of all time in a 2010 poll conducted by NFL Network.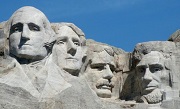 Those two surely belong on the franchise's Mount Rushmore, leaving two more sports at the top.
Let's start with Selmon, the first draft pick in Buc history and arguably the team's premier player. As the right defensive end in a suffocating 3-4 alignment, Selmon faced constant double teams.
Every down. Every snap.
Yet he still holds the franchise record for career sacks (78.5) and Selmon was the focal point for Tampa Bay's first great defensive team, the 1979 club that allowed the fewest points and yards in the league.
The Greatest?
Make room for Mr. Brooks on Mount Rushmore. Dubbed "The Don," by his grateful teammates, Brooks was an extraordinary technician who never got his due as a fierce competitor.
On the field, he talked as much trash as Warren Sapp. He just wasn't as demonstrative as his larger-than-life roommate. Given that I missed the Selmon era, Brooks ranks as the best player I've seen in a Buc uniform.
Sapp isn't far behind.
Making an NFL All-Decade team is quite an honor. Sapp made two of 'em, joining Bruce Smith, Reggie White, Bob Lilly and Merlin Olsen as the only defensive linemen to be honored in such a manner.
That's some company.
Sapp played rough and he played hard, but he wasn't a dirty player. He wrecked more offensive game plans that you can count and he did it his way — fearless, unapologetic and unforgettable.
The Only Debate
Here's where it gets sticky. Some like John Lynch, some like Ronde Barber to round out our quartet. There are strong arguments to be made for both, but I lean toward No. 20.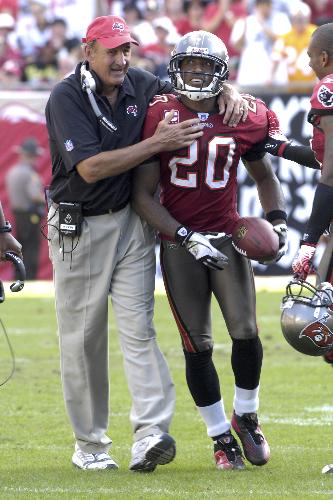 Barber became a full-time starter in 1999, which just happens to be the season the Bucs averaged less than 17 points per game and still went 11-5. Why? Only four times in 18 games, including two playoff matchups, did Tampa Bay allow more than 17 points.
Barber played 241 games in a Buc uniform, compared to 164 for Lynch, and he didn't miss a game in his final 15 seasons, despite an array of injuries. He also turned in the biggest play in franchise history (just ask Donovan McNabb) and Barber's versatility is off the charts.
While Lynch has been a Hall of Fame finalist in each of the past six years, Barber can't even get in the room for discussion. Let's hope that oversight gets rectified in seven months, when voters meet in Miami.
There you have it … Selmon, Brooks, Sapp and Barber. See any offensive players in that group? Perhaps Mike Evans can make a case down the line.
At the moment, Mount Rushmore appears insurmountable.