"I Know He's Going To Throw His Face In The Fan"
July 26th, 2019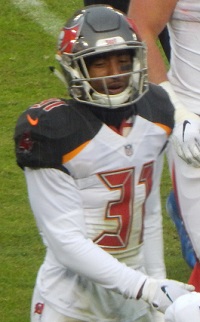 After training camp practice Day 1 ended this evening, Bucco Bruce Arians seemed like a head coach aching for Monday so he can watch some real football.
With so, so many new players on defense, Arians knows he can't evaluate these guys well he can see them rolling at full speed.
Offensive linemen? Arians always says he can't evaluate them until the hitting begins.
Running backs? Arians liked the way they saw holes but he noted the holes aren't real.
Hard-hitting safety Jordan Whitehead was brought up to Arians after practice and, with Justin Evans playing spectator because of his bad wheel, Arians noted Whitehead is "flying around," has added weight at the team's request and "I know he's going to throw his face in the fan."
The clock on underwear football is winding down and the pads will be on next week. Joe can hardly handle another less-than-full-speed session in the Glazer Shed, where the team was crammed in today because of weather.
As for Whitehead, well, Arians is going allow some tackling to the ground in camp. So the second-year man's fury will be felt.