Hall Changes & A Push For Monte Kiffin
July 5th, 2019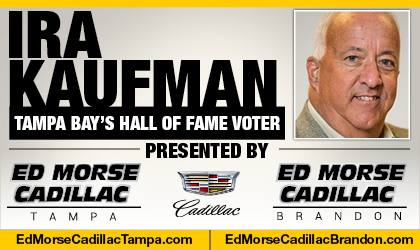 BY IRA KAUFMAN
The Pro Football Hall of Fame appears ready to shake things up – for one year and one year only.
Come and get it.
In honor of the NFL's 100th anniversary, Canton's shrine of excellence is about to open its doors to an expanded Class of 2020. There is a strong push for a contingent of 20 Hall of Famers next summer, rather than the usual maximum of 8.
There is still the matter of a final vote from the board, but at this point, it appears fairly certain the motion will be approved. Football fans can expect a class of 5 modern-era candidates, 10 seniors, 3
contributors and 2 coaches.
The first thing you should know is this proposed one-year change will have no effect on former Bucs like John Lynch and Ronde Barber. To earn a bust in Canton, they must still be on the list of 15 finalists
and then survive the cut to five.
But an expanded class would make it far easier for several others with Tampa Bay ties. Senior candidates are players who have been retired for at least 25 years, so a Mike Alstott is a long way off. But Doug Williams and Jimmie Giles both qualify … and they each have distinct qualifications.
"So Powerful"
You can't write the history of pro football without devoting a chapter to Williams, the first black quarterback to win a Super Bowl. He also led the Bucs to three playoff berths within a four-year span before departing in a contract dispute.
He may have completed less than half of his career pass attempts, but Williams is a historic figure for helping the 1987 Redskins hoist the Vince Lombardi Trophy by crushing John Elway's Broncos in San Diego.
"It was a sight to see, truly amazing, but it was more than that," said quarterback Rodney Peete. "It didn't have quite the global impact of Jesse Owens going to Berlin and winning the Olympics, but it was something that was so powerful — something that a lot of people running these organizations didn't believe could happen."
Giles played 8 1/2 seasons for the Bucs and averaged 15.4 yards per catch, a stunning figure for a 240-pound tight end who was also a stout blocker. Giles made four Pro Bowls and defensive guru Buddy Ryan said when his teams faced Tampa Bay, his game plan was focused almost entirely on neutralizing the big, fast tight end who was rarely caught from behind.
Let's also remember that after Williams left the Bucs in 1983, Giles was catching passes from Jack Thompson, Jerry Golsteyn, Steve DeBerg and Eric Hipple.
One franchise that stands to benefit from an expanded senior pool is Cincinnati. The Bengals have been playing since 1968 and Anthony Munoz is their only representative in Canton. That could change in 2020 because Lakeland's Ken Riley and Ken Anderson are strong candidates overdue for recognition.
Riley is tied for fifth with Charles Woodson on the career interception list with 65 thefts. The four guys ahead of him – Paul Krause, Emlen Tunnell, Rod Woodson and Night Train Lane — are all enshrined. Charles Woodson has the look of a first -ballot Hall of Famer in 2021.
Up until now, coaches had to battle players for a spot in Canton. That was a difficult fight to win, but the competition will change in 2020 with coaches set aside in a separate category for at least one year.
The Travesty
This centennial year is an opportunity to correct a major oversight. Of the 318 busts in Canton, not a single one depicts the likeness of an assistant coach.
That's a gold jacket travesty.
As Tampa Bay's only Hall of Fame voter, I'm going to be pushing for Monte Kiffin, who joined Tony Dungy at One Buc Place in 1996 and implemented the ground-breaking Tampa 2 scheme. In his 13 years with the Bucs, Kiffin boasted a Top 10 scoring defense every season except 2006. That was also the only year Kiffin didn't oversee a Top 11 unit in total defense.
When Kiffin departed in 2009, the Buc defense plunged to 27th in both categories.
It's refreshing that Hall of Fame officials are planning to do something special for the NFL's 100th anniversary. The Class of 2020 figures to be a historic one.
Buc fans are hoping it hits close to home.