NFL Players Say Gerald McCoy Is 75th-Best Player
July 25th, 2019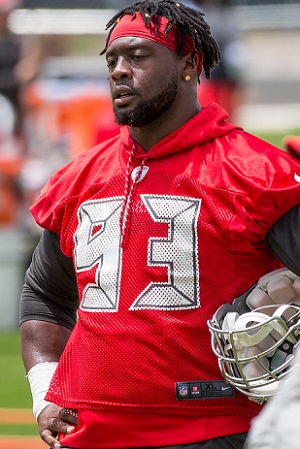 According to the votes of many hundreds of NFL players, fired Buccaneer Gerald McCoy was a better player in 2018 than he was in 2017. They ranked him 75th best in the NFL.
The Buccaneers' soap opera took a juicy twist last night when McCoy was featured on the annual Top-100 Players of 2019 feature on NFL Network, the famed ranked based solely on the votes of NFL players themselves. Keep in mind McCoy did not appear on the list last year, his first snub by his peers since making his debut at No. 92 on the 2013 rankings. McCoy twice ranked as high as No. 28, in both 2014 and 2015.
This is a bit of a stunner, especially for the McCoy haters out there who think he just flat out sucks.
If they are correct in their analysis, how did go from off the list to back on? It's not like there's a dearth of good defensive tackles around the league. And the Bucs defense was downright horrid last year. Yet there is McCoy, shining through war zone around him.
Joe learned recently that McCoy was training in Tampa this summer with some of his former teammates and did not want that to be public knowledge. Joe also learned that McCoy has become a bit obsessed with the pending Week 2 matchup of his Panthers against the Bucs on Thursday Night Football.
Joe can't wait. Hopefully, the Panthers don't match up McCoy on the Bucs right guard.
The NFL Network series continues tonight. Ndamukong Suh has made the Top-100 for eight consecutive years, since the inaugural season of the series. Suh has not been named this year, but Joe expects to see Suh that streak continue this week.